Submitted by Allyana on Tue, 01/04/2011 - 01:52
Name: Anne Mierzejewski
Stage Name: Anne Millet (her name for all practical matters)
Race: Human
Sex: Female
Birth date / Location: 18th of December, 1995 - Salt Lake City, Utah
Group Affiliation: n/a
Family: six brothers (most of them back in Salt Lake City) Anthony, Clinton, James, Warren, Drew and Derek (twins)
Position: Actress / bicycle messenger at Flash Courier Service
Description:
Aesthetics and Dress~
Anne has startlingly clear blue eyes and naturally curly blond hair, but dies it black. She is small and very thin, with a waspy waist that she likes to define even more with corsets and tight clothes. In her free time she favors the goth style: dark colors, corsets, fishnets and lace. She also likes wigs, lots of wigs. She wears dark make-up too, that accentuates her dramatic coloring. She doesn't have tattoos or piercings, though, because she doesn't want to hinder her possibilities as an actress.
Anne is played by Ksenia Solo.
Attitude~
Independent; careless; competitive; a little rebellious; stubborn. She has a healthy sense of humor that can sometimes show its dark side, and tends to be the kind of girl that in tense situations will attempt to lighten the mood with a joke. She was pampered by her mother and brothers, and sometimes it shows.
She has a deep love for fiction vampires, even if she's well aware that they aren't the romantic creatures authors tend to write about. Actually, the fact that they really exist only increased her love for their fictional side. She has decided that there must be some decent vampires in the world, although she has yet to find one –not that she tries very hard, she's not idiot or suicidal, after all.
When she decided to become an actress, she changed her last name to Millet, given that Mierzejewski was just too difficult to spell.
Lifestyle~
Anne is an actress. She's trained in all performing arts, and can sing well and dance even better, although she's best at acting. While striving to make her way in Broadway, she works in a bicycle messenger service in the mornings.
She shares an apartment in Little Italy with Cadee Cloud, and the custody of their two cats: Flora and Freddo.
Biography:
Anne was born on the 18th of December, 1995 in Salt Lake City, Utah. She grew up in a fairly average working-class family. Her father was a constructor and her mother an ex-nurse who had dropped her job to take care of her big family.
Being the youngest and only girl after six boys, she lived her life in a difficult duality. She was doted on by her mother, who had despaired of even having a daughter after so many sons, but her father and brothers treated her as one more of them. That made her a strange combination of a tomboy and a princess. From an early age, she was forced to fight to be recognized by the male population of her family while keeping her mother happy. She could play basketball like any of her brothers, ride her bike better than most of them, manage herself in the usual fights among themselves and swear like a sailor, all of that wearing summer dresses and butterflies in her hair.
Unfortunately, Anne's mother died when she was 12, and her father fell into depression, submerging into his job and not paying much attention to his bunch of children. Anne and her brothers found themselves suddenly alone for all practical matters but money. Without a parental guide, Tony (22) and Clinton (20) dropped university and started working in construction as well, James (19) started taking drugs till the rest of the family literally beat him out of the habit, Warren (16) turned to books and became all but a nerd (with muscle, everybody in the Mierzejewski family had muscle) and Derek and Drew (15), entered the school's basketball team and did little else,.
But what all six boys agreed upon was that they should protect their little sister, so Anne was suddenly put in the princess position again –only this time without the tomboy aspect to balance. She soon started to feel like a caged bird, so she resorted to books and films, and she discovered vampires. She fell in love with Edward Cullen and Stefan Salvatore, hated Anita Blake (she killed vampires!), practiced to wake her telepathy skills like Sookie Stackhouse (to no avail, of course) and her detective ones like Rachel Morgan.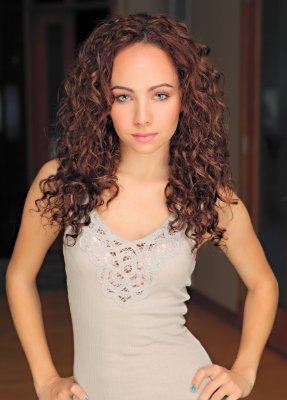 She died her blond hair black, and started wearing a lot of make-up (no tattoos or piercings, the whole Mierzejewski bunch agreed on that too) and dark goth clothes. She also started attending drama classes and decided to be an actress.
When she was 18, after finishing high-school, she called for a family meeting and told her brothers that she was moving to New York to study drama and become an actress. The ruckus that followed was epical, but she was adamant in her decision, she told her brothers that if they didn't allow her to follow her dreams, she would wither and die like their father had. The six brothers stopped at that, recognizing in their little sis' eyes the same determination that moved all of them, so they got their heads together to find a solution to the problem that suited them all.
Finally, they decided that they would allow Anne go to New York only if one of them went there as well, to keep an eye on her. By consensus, they decided that it would be Warren. The brother (22 by then) had kept to his nerdy ways, and was excited to go to NY and continue his studies there. The rest of the brothers would come and go as they saw fit.
The arrangement was ok to Anne, so she and Warren moved to NY and shared an apartment for a few years. Having six older brothers who doted on their little sis had its benefits, like paying for school, so Anne started an Integrated Program (Acting, Musical Theatre and Dance) at the American Dramatic and Musical Academy of New York, and afterwards a Bachelor in Performing Arts at the same school.
However, she wanted to earn her own money, so she started working as a bicycle messenger for Flash Courier Service, after lying about knowing the city. There she met Cadence Cloud, a fellow messenger, who helped her get around when she realized that the girl couldn't tell the Fifth Ave. from the 42nd St.
It was in one of those errands that she realized the hard way that vampires were not the romantic beings she had fantasized about for years. She was fortunate Cadee wasn't far away, as she saved her life and dusted the horribly deformed vampire who had attacked her, Anne realized that Cadee wasn't what she had imagined either. Once in the open, Cadee told Anne all about vampires and other supernatural beings, even about herself since Anne had already witnessed her unnatural strength and agility.
The two girls developed a close friendship after that, even if Cadee changed jobs eventually and became a waitress at an Irish bar. When Anne got her degree and left the AMDA they moved together to a small apartment near Cadee's job.
Items: her Schwinn bike.
Powers: She's a normal girl with normal skills, although she can manage herself in a 'normal' fight –she has six brothers, remember. After some years working as a bicycle messenger, she is very good on her bike and knows Manhattan like the palm of her hand.
Secrets: no secrets other than her knowledge of the supernatural.